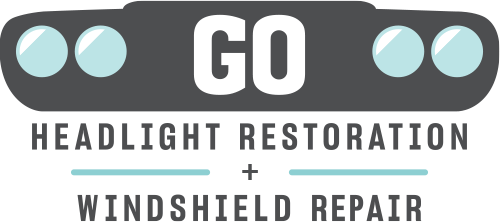 Welcome to GO Headlight Restoration
and Windshield Repair.
---
Headlights and windshield repair are our speciality. Customer satisfaction is our goal. We offer quality service with professional results.
Professional Service
No hassle and no surprises.
We are upfront with everything so you don't waste your time.
HEADLIGHT
RESTORATION
---
Headlights that are yellow, faded and dull:
Enhance night driving visibility. Improve safety. Restore shine and clarity back to your aged headlight. Protection against UV oxidation damage.

Follow this link to determine if your headlights is reparable.
Removal of dirt and contaminates built-up
Stripping of yellowed and faded oxidated layer
Multi-steps polishing for restoring lust and shine
Ceramic UV protective headlight coating with 2 years warranty*
WINDSHIELD
REPAIR
---
Windshield with bulls-eye, star break, or combination break:
Minor windshield damage weaken the overall integrity of your windshield. If damage is left unattended, it may produce further damages. Compromising safety and reducing driving visibility.
Clean and removal of surface contaminates on damaged area
Removal of loose glass off impacted point
Injection of resin to fill, seal, and bond with the damaged area
Clean and polish
Lifetime warranty of the repair†
GO Headlight Restoration is both a Delta Kits and a Glasweld Certified Windshield Repair Technician
Service start at
up to 2 inch of damage
+$45 per each additional breaks or cracks
Travel fee may apply‡
Schedule this Service
GLASS SCRATCH REMOVAL
---
Windshield, Tempered Glass, Mirror, or Windows with scratched surface:
Driving with a scratched windshield may be more dangerious than you think. Though scratches on most glass surface are superficial and does not effect the integrity of the glass. It does however, present a distraction to the driver. Not to mention it effects the appearance and value of your vehicle.
Clean and removal of contaminate off glass surface
Polish off scratches using specialize non-abrasive glass polishing compound to a smooth finish
Disclosure:
*Warranty—For Headlight Restoration and Headlight Recondition, warranty coverage will be honored if headlights that was serviced returns to their pre-serviced condition within the warranty period. (Example: dullness and yellowing returning). Warranty coverage are honored with the service in which the original service was provided, free of charge. There will be no replacement of parts. Post-restoration damage such as scratches, cracks, or collision damage are not within our warranty coverage terms, and it will fully void the warranty.

†Warranty—For Windshield Repair, warranty coverage will be honored if original break on windshield reappear or becomes dislodged off the windshield. In the event that the fore mentioned instance occurs, GO Headlight Restoration's liability is limited to a full or partial refund of the initial cost of repair to the client. GO Headlight Restoration will not be liable for the cost associated with replacing said windshield for the client. Warranty does not extend to new breaks at or around the initial repaired area. New breaks on a GO Headlight Restoration repaired windshield will void the warranty of the initial repair, due to the windshield's structural integrity has once again been compromised. Warranty is not transferable. But will be honored as long as you own your vehicle.

‡Travel fee—Primary service area are Queens, Brooklyn and parts of western Long Island. Travel fee may apply if servicing location is outside of Queens and Brooklyn. A $2 per mile, and/or associating tolls, may apply to your quote.

Sales Tax—The normal New York State Sales Tax of 8.875% will be applied.
Why does my headlight look yellow and dull?
Modern headlight are made with a very strong plastic material call polycarbonate. Which does not break as easily as glass. The downside to polycarbonate, is that it oxidizes (turning yellow) from prolonged exposure to UV radiation from the sun. To fix this issue, factory applies a coating of UV protective sealant on the headlight. However, overtime, dirt and chemical contaminants built-up, rocks and debris hitting the headlight, slowly stripps away the UV protective coating, exposing the polycarbonate underneath. Causing it to turn yellow and dull.
Benefits to restoring your headlights?
Safely should be the top priority for all automotive repairs. Yellowed, dulled, or clouding headlights limits your visibility when driving at night, putting you and everyone else on the road at risk. Headlights that properly luminate the road ahead can help you identify potential danger quicker, so you have more time to react and avoid a potential accident. It is a life saving benefit.
Cosmetically, it help to prevent further UV damage to your headlight with a newly coated UV sealant. From yellow and dull to clear and polished, a newly cleaned and restored set of headlights add visual appeal and can increase resale value to your vehicle.
How long does the entire headlight restoration process take?
Depending on the condition and severity of the damage, for most cases, the entire process of the headlight restoration takes about 1 to 1.5 hour.
How long will the restored headlight last?
With proper care and cleaning, and occasional repolishing and sealant, a newly restored headlight can last for years before it needs to be service again.
How to determine if headlights can be restore?
That is correct. Not all headlight damage are reparable. Follow this link to see which condition your current headlight falls under and determine if headlight restoration will provide the kind of improvement that will gives you the safe driving experience you need.
What is windshield repair?
Windshield repair is a permanent process that removes air from the impact point between the glass of your windshield by filling it with a curable, optically-matched resin.
Benefits of windshield repair over windshield replacement?
The primary benefits of windshield repair is to restore the structural integrity of the glass. Secondly, it also help retains the original factory seal of your windshield, retaining resale value by avoiding using aftermarket replacement parts. In most cases, windshield repair is much more cost effective than having your windshield replace. The process of repairing your windshield is also very quick. Most bulls-eye and star breaks can be repair in under 30 minute. Choosing to repair your windshield over replacement also reduce the environmental foot print.
Will repairing the windshield restore it back to near new finish?
Keep in mind that the primary goal of windshield repair is to restore the structural integrity of your windshield. Windshield repair will almost always leave a small scar at where the impact point is at. However, if the repair is perform properly, the scar should be very minimum. Scars of repairs from long cracks will be a bit more visible if you are trying to find it. However, the cosmetic appearance should be at least an 80% enhancement prior to the repair.
How long will the windshield repair last?
If repair are perform properly, it is 100% permanent and should last for the lifetime of the windshield. However, new breakage to the windshield will inadvertently compromise the structure of the windshield and so does the integrity of the original repair.
Are windshield repair a regulated service that follows compliance and standard?
Our windshield repair services follows the practice and standard established by the REPAIR OF LAMINATED AUTOMATIVE GLASS STANDARD (ROLAGS™). To learn more about windshield repair practice and standard please read their comprehensive handbook here.